Changes to Saorview frequencies and power levels, 24th October 2012

Brian Butterworth published on UK Free TV
The Saorview (Irish for "Freeview") service has been running for some years now, and 24th October 2012 marks the day in the Republic of Ireland where the old VHF and UHF analogue television services are discontinued. You can see full interactive maps of Saorview at Saorview (and relays).

In addition, there will be a small number of changes to power levels and frequencies for Saorview.

These are:

Clermont Carn, first multiplex moves from C53 to C52

Mount Leinster transmitter, C45 will change to C23

Truskmore transmitter , power level increases to 160kW

Moville transmitter , power level increases to 2kW

Here is a reminder of which set-top boxes are compatible with which services in the Northern Ireland and the Republic of Ireland: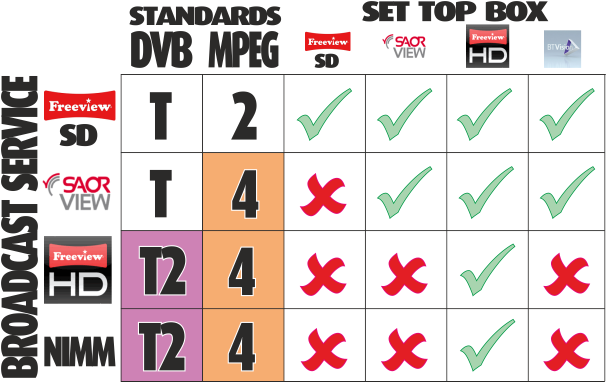 From Technical Parameters - ComReg and http://www.rtenl.ie/wp-content/uploads/2012/10/SAORVIEW-Frequencies-Rev-2.4.pdf.
Comments
Wednesday, 17 October 2012

Can I just inform you all that as this coming Tuesday night/Wednesday morning will be digital switchover day where the switchover to digital TV will be complete & analogue TV in the United Kingdom will be no more, BBC 1 in Northern Ireland only along with UTV are presenting a programme The Magic Box starting at 22:35 on Tuesday October 23rd, which will be a special live broadcast on both channels hosted by Eamonn Holmes, celebrating the best of Northern Ireland television over the past 60 year and marking the occasion of the digital switchover. As Im sure most of you know BBC1 Northern Ireland can also be received in the rest of the UK if you have satellite TV. It seems the rest of the UK is doing little or nothing to acknowledge the passing of analogue TV. What a shame.

John Gleeson's 13 posts
Thursday, 18 October 2012

John Gleeson: Thanks.

There was quite few things that happened when the switchover happened in London, but I guess for many people in the UK, switchover is something that happened a long time ago. In Manchester it was 2nd December 2009 - almost three years ago.

Briantist's 38,844 posts

It will also be the last day of Ceefax/Teletext and Channel 5 will finally be broadcasted from all UK transmitters.

Mark A.'s 368 posts
Sunday, 21 October 2012
Wednesday, 24 October 2012
G
gerry
8:06 AM
Londonderry

Has Moville increased to man power today?

gerry's 21 posts
G
gerry
8:08 AM
Londonderry

Has Moville increased to Max power today 24.10.12?

gerry's 21 posts

gerry: as I understand it, the power increases today.

Briantist's 38,844 posts
P
paul allen
10:41 AM
Craigavon

As from today wednesday 24th october i can get Rte 1 Rte 2 and TG4 but no RTE 2 HD or the other available rte channels,i have an aerial pointing towards the south i live in co.armagh n.ireland.

paul allen's 3 posts

paul allen: you are getting the special Northern Ireland Mini Multiplex. See Northern Ireland RTE1, RTE2, TG4 special mini-multiplex from 24 October | ukfree.tv - 10 years of independent, free digital TV advice please.

Briantist's 38,844 posts
W
William
10:54 AM
Strabane

paul allen: Hi Paul what kind of Box are you using ? is it an old Picnic box ? if so you will indeed receive everything but RTE2

William's 2 posts
Select more comments
Your comment please