Changes to Saorview frequencies and power levels, 24th October 2012

Brian Butterworth published on UK Free TV
The Saorview (Irish for "Freeview") service has been running for some years now, and 24th October 2012 marks the day in the Republic of Ireland where the old VHF and UHF analogue television services are discontinued. You can see full interactive maps of Saorview at Saorview (and relays).

In addition, there will be a small number of changes to power levels and frequencies for Saorview.

These are:

Clermont Carn, first multiplex moves from C53 to C52

Mount Leinster transmitter, C45 will change to C23

Truskmore transmitter , power level increases to 160kW

Moville transmitter , power level increases to 2kW

Here is a reminder of which set-top boxes are compatible with which services in the Northern Ireland and the Republic of Ireland: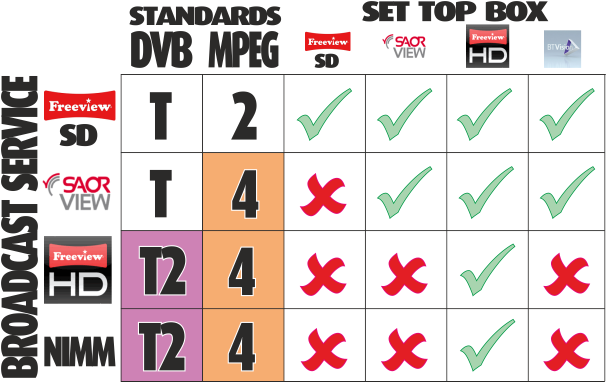 From Technical Parameters - ComReg and http://www.rtenl.ie/wp-content/uploads/2012/10/SAORVIEW-Frequencies-Rev-2.4.pdf.
Comments
Saturday, 27 October 2012

Mark: You will need a second aerial for Clermont Carn as it is vertically polarised and Divis/Black Mountain NIMM are horizontally polarised.

Dave Lindsay's 5,724 posts

Dave Lindsay: Good point Dave! I missed that as Clermont Carn is unusual in that respect for a main station.

KMJ,Derby's 1,811 posts
Sunday, 28 October 2012

Thanks for the advice so far lads. I live in an apartment block with a commuinal aerial and there already seems to be two - one with vertical elements and one with horizontal elements. I have uploaded a picture of the aerial to imageshack (http://img833.imageshack.us/img833/9116/aeriall.jpg) if that helps.

Mark's 13 posts
Monday, 29 October 2012

Anyone?

Mark's 13 posts

Mark: If this is an issue with the aerial/reception system, then it may be the responsibility of the landlord.

How was the former analogue reception from Clermont Carn? In particular, RT One?

Dave Lindsay's 5,724 posts

No landlord Dave, all the flats are individually owned. Now that you mention it, analogue RTE reception was non-existent. I will maybe speak to the company who installed the aerials and see if they know anything, cheers.

Mark's 13 posts
Saturday, 3 November 2012

i'm in warrenpoint and got all RTE stations before switchover now i can't get any with a full HD freeview tv what do i need to do.

dan's 1 post

dan: Assuming that your RT aerial is vertical and points to Clermont Carn in Co. Louth, then you need to manually tune to UHF channel 52.

Dave Lindsay's 5,724 posts
Saturday, 10 November 2012
L
louis feather
9:09 AM
Bradford

I am located in Idle, Bradford BD100ts. Following the changes on 17th October, if i retune my Humax digibox now will my signal strenth increase? If not when will the digital signal be increased?

louis feather's 1 post

louis feather: At just over half a mile I would expect that the signal from the Idle transmitter will be plenty strong enough. If anything, your receiver could be suffering too high a signal level rather than too low a level.

Confirm that it is tuned to Idle for all signals and that you aren't watching the output of another transmitter such as Emley Moor. Do this by checking the signal strength screen whilst on each of the following:

BBC One=C24
ITV1=C21
BBC One HD (if HD model)=C27
ITV3=C42
Pick TV=C45
Film4=C39


Can you not see the transmitter from your house? With line-of-sight you certainly shouldn't be expected to have a problem.

Too high a signal level can overwhelm the receiver and as a result, it can start to indicate too low a signal level and poor quality. Sometimes this will cause the strength and quality meters to jump up and down.

See:

Freeview signals: too much of a good thing is bad for you | ukfree.tv - 10 years of independent, free digital TV advice

Dave Lindsay's 5,724 posts
Select more comments
Your comment please