Sudbury Arqiva multiplex B changes 16 November - retune required

Brian Butterworth published on UK Free TV
After 6am 16th November 2011, viewers in Suffolk and Essex who receive the full Freeview service from the Sudbury transmitter will need to do a full retune of their Freeview boxes - you must perform a "first time installation" retune (sometimes "Factory Reset" or "Shipping Condition") to ensure you can watch the all the available Freeview channels on the correct channel numbers.

The ArqB multiplex is moving from C50 to C63 for seven months. There will be no changes to the power level or transmission mode parameters of the service. C50 is required for the ArqB at the Tacolneston transmitter digital switchover next wednesday.

Sudbury not see the commercial multiplexes operating at their final power levels until 27th June 2012. On this date SDN will move to C58, ArqA to C60 and ArqB to C56. Until this time some viewers on the edges of the service area for the transmitter will be unable to receive the commercial services.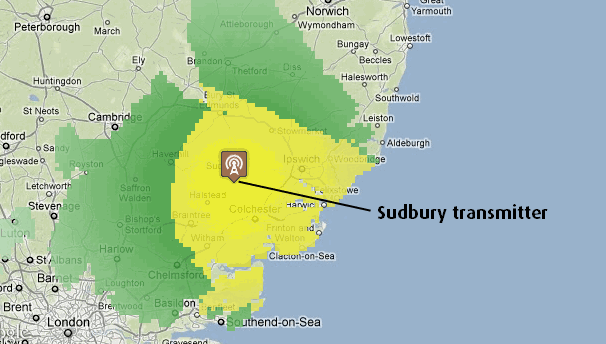 Comments
Tuesday, 15 November 2011

hi andyboy will need retune my sony tv on the 16thto get any new channels or will be the same in the moring thanks andyboy

andyboy's 14 posts

andyboy: The change tomorrow that necessitates retuning applies only ArqB mux (which carries Yesterday, Film4, 4Music and others). If you don't receive this now, you might be able to get it afterwards.

So all other multiplexes stay as they are and therefore if you don't retune, you will still have them.

Dave Lindsay's 5,724 posts

andyboy: No new channels, just a retune.

Briantist's 38,844 posts

andyboy: Following Briantist's comment, I take back what I said above that you might receive it afterwards!

Briantist: Will a change of frequency but no change of power not mean that it will become available to some and perhaps be lost by others because different frequencies are affected in different ways? I'm thinking specifically of a relatively small number of people who are close to the cliff edge now, or only just over the cliff). The former could be pushed off and the latter might pulled up the cliff.

Dave Lindsay's 5,724 posts

hi andyboy just one more thing sell i do a retune anyway to keep up to date thanks let you tommorw can you reply

andyboy's 14 posts
Wednesday, 16 November 2011

16th November - Just retuned

Lost Russia Today TV channel, all other channels seem OK.

My post code is CO6 1QN Coggeshall Essex

Does anyone know why?

Thanks



Phil's 2 posts

hi andyboy 3 tmes i have retune and still nothing can you tel wnen is going to happing please i postcode ss7 3ra i get my freeview from sudbury channel 44+41 all ok thanks

andyboy's 14 posts

All seems to have gone pear-shaped with the move from Ch 50 to Ch 63. I have always had all channels here with quality at least 6 out of 10, even when all were on low power before switch-over, but today the Mux on Ch63 is giving me Quality 1 out of 10. My Panasonic PVR just about copes, my LG TV tunes in but picture is totally broken up, and my cheapo Tesco TV won't tune in that Mux.
I had a wide-band aerial installed 3 years ago, so this should not be an out-of-band aerial problem. Removed signal amp back in July. Yesterday all Ch50 channels were fine with quality 9 out of 10.
Anyone got any ideas?
IP2 9XY.

Dale's 78 posts

I am also in Ipswich and there is nothing on channel 63 (or 50), so the multiplex with ITV4 on it is not working. ITV4 worked fine yesterday. I am wondering if I need a new aerial.

Chris's 2 posts

I am in Sudbury, right under the transmitter.
We have 3 set top boxes in this house,(all running from the same aerial) have done a factory reset on one and lost 5 channels-yesterday/film4/4music/itv4/RT (they dont even list on the menu). On one of the others I have sound but no pictures on some channels(no reset done), and I'm not even gonna turn on the third cos yesterday it was working just fine!. I understand the whole process of why we're changing over but why do we keep getting this constant requirement to retune every 6 months and then loose channels etc. It's all well and good getting a new aerial etc etc but we are in hard times at the moment and people cant go out and just fork out for a new aerial or have a specialist installer come and sort out their problem just because someone has decided to change freeview channels around. Come on guys....there are a lot of people out here who use their tv to relax and get away from the daily grind and dont need this.

james's 1 post
Select more comments
Your comment please