Freeview removes com8 channels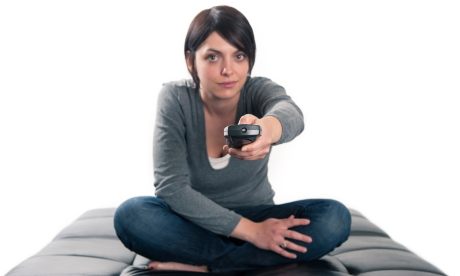 These channels could be received in about 77% of UK homes. This means there are 15 channels left on com7. According to reports com7 will now continue "for the foreseeable future"[1]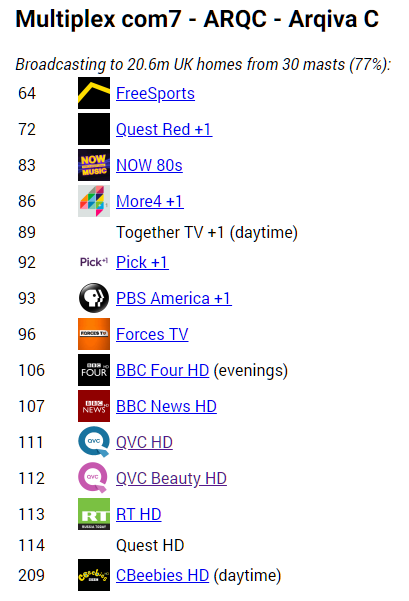 I have once-again aligned the data here on ukfree.tv with the official list of Freeview channels, at https://www.freeview.co.uk/corporate/platform-management/channel-listings
[1] https://www.cai.org.uk/index.php/contact/news/17-dtt-freeview-updates
Comments
Thursday, 2 July 2020
P
Philip Broomhead
6:39 AM
Nottingham

Hello.
I receive my Freeview from Waltham.
Looking at your updated details for March 2020 I was surprised not to see Channel 29 listed. I have got the full details to hand.

Philip Broomhead's 1 post

Philip Broomhead:

The site owner is aware that a number of pages are not up-to-date as he's been unable to keep up with all the 700MHz clearance changes. Occasionally some updates are being done.

Chris.SE's 3,468 posts

Briantist:

Slight typo there Brian, CBeebies is on 206. You've listed the temporary interim simulcast on COM8 after the retune before COM8 closed.
Also Pick+1 on 92 has gone, it may be in the list and is on the EPG but not broadcasting, see 18 Jun 2020 - Pick TV +1 channel broadcast changes | Freeview

Based on the information I've been given, COMs 7&8 were never due to close yesterday (your note at the top of the page) as there was no revised licence published agreeing that, as Arqiva wanted a later date. The only licences ever listed recently were a revised one last year in July which still had the 2026 end date
and the new one https://www.ofcom.org.uk/….pdf

The COM8 closure was a commercial decision Rebuilding Freeview High Definition from 2019 onwards | free and easy and contains the statement I was given.

Chris.SE's 3,468 posts
Saturday, 18 December 2021

I would like to watch Freesports, but the only signal I can get is from Sudbury, which does not offer Freesports: I w wonder why?

Rex Watson's 7 posts

Rex Watson:

It's because Freesports is on the COM7 temporary multiplex (due to close by end of June 2022) and this is only transmitted on 25 of the UK's main transmitters and Sudbury isn't one of them.

It's most likely on COM7 for one of two (or both) reasons. Lack of room on the other multiplexes, and/or the cost of being on COM7 is (we believe) cheaper than other multiplexes.
There's been no announcements about what may happen to all the channels carried on COM7 and whether changes on the other multiplexes may occur.

Chris.SE's 3,468 posts
Wednesday, 25 January 2023

Could you tell me why I suddenly can't access GBNews on channel 236 on freeview?

Janet sheldrick's 1 post

Janet sheldrick:

Works ok for me. It could be the weather or your transmitter having maintenance, but as you haven't given a full postcode, can't check any of that or your predicted reception which might be marginal!

Is it now back, or are you missing other channels? Easier if I just list the LCNs for the TV channels on the same multiplex - 39, 44, 51, 65, 72, 77, 78, 82, 84, 92, 206, & 235.

Chris.SE's 3,468 posts
Thursday, 11 May 2023
C
Chris Perkins
3:26 PM
Farnham

Hi ,
Since the changeover to BBC South HD we have been
experiencing random picture resets on several channels
- the signal disappears and returns a few seconds later.
It happens on all televisions in the house and is not related to aerial issues
Friends have also experienced similar issues in Tadley Hampshire . Our postcode is GU10 4LB and we have not experienced any issues with service up until the 26April on the Hannington transmitter
Is anything known about this issue?

Chris Perkins's 2 posts
Friday, 12 May 2023

Chris Perkins:

Hannington hasn't been listed for Planned Engineering in recent weeks and I can't find any reports of recent faults listed. There has been some quite variable "tropospheric ducting" with recent weather conditions and this can cause interference from distant transmitters in the UK or Europe which can disrupt your reception. That can last for seconds, minutes or longer, not all multiplexes are necessarily affected and not everyone will get problems, it can be very frequency and location dependant.

One of the difficulties of your location is that you can receive signals from several transmitters, but not all will provide reliable reception of all multiplexes.
Hannington is predicted to give good reception for most multiplexes for most of your postcode, but predictions are just that and specific reception will be affected by any immediate local buildings , trees etc which can't be taken into account in a general prediction.

Your location unfortunately has a large forest on the line of sight to Hannington and this could have a large effect in the wrong atmospheric and weather conditions, so that when you have to retune as you needed to for the recent HD changes it's possible that you may inadvertently get tuned to the incorrect transmitter for some multiplexes because of conditions at the time , which of course will change and give unreliable reception.

Check in your TV Tuning Section that you are correctly tuned to Hannington's UHF Channels -
These are C45, C42, C39, C40, C43, C46 & possibly Local multiplexes on C32 or C34 but the Locals are not predicted in your postcode.
That's in the multiplex order BBCA/PSB1, D3&4/PSB2, BBCB HD/PSB3, SDN/COM4, ArqA/COM5, ArqB/COM6 & Locals Basingstoke or Reading.
You might even get the London Local multiplex on C35 off the back of your aerial!

See https://www.freeview.co.uk/corporate/platform-management/channel-listings-industry-professionals for which TV channels are carried on which multiplexes.

If you continue to have problems, post back with more detail and specific channels.

Chris.SE's 3,468 posts

Chris Perkins: Chris
Many thanks for your comprehensive reply. Today we have had no interrupts so you may well be correct in as much as this may well be weather related. That said, I'll check out the channels as you suggest and get back to you if necessary. Thanks again for your help

Chris Perkins's 2 posts
Chris's:
map
C's Freeview map
terrain
C's terrain plot
waves
C's frequency data
wifi
C's R

&

TI Service
business
C's digital

uk

trade
radio
C's DAB coverage
Select more comments
Your comment please