Freeview removes com8 channels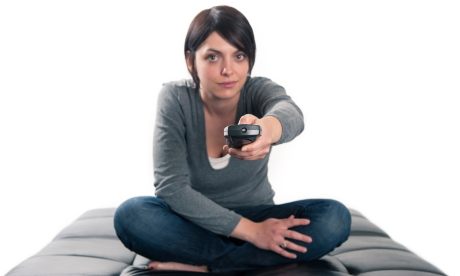 These channels could be received in about 77% of UK homes. This means there are 15 channels left on com7. According to reports com7 will now continue "for the foreseeable future"[1]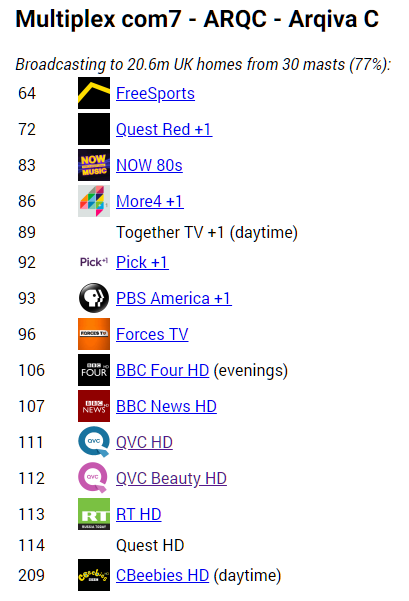 I have once-again aligned the data here on ukfree.tv with the official list of Freeview channels, at https://www.freeview.co.uk/corporate/platform-management/channel-listings
[1] https://www.cai.org.uk/index.php/contact/news/17-dtt-freeview-updates
Comments
Thursday, 2 July 2020
P
Philip Broomhead
6:39 AM
Nottingham

Hello.
I receive my Freeview from Waltham.
Looking at your updated details for March 2020 I was surprised not to see Channel 29 listed. I have got the full details to hand.

Philip Broomhead's 1 post

Philip Broomhead:

The site owner is aware that a number of pages are not up-to-date as he's been unable to keep up with all the 700MHz clearance changes. Occasionally some updates are being done.

Chris.SE's 3,345 posts

Briantist:

Slight typo there Brian, CBeebies is on 206. You've listed the temporary interim simulcast on COM8 after the retune before COM8 closed.
Also Pick+1 on 92 has gone, it may be in the list and is on the EPG but not broadcasting, see 18 Jun 2020 - Pick TV +1 channel broadcast changes | Freeview

Based on the information I've been given, COMs 7&8 were never due to close yesterday (your note at the top of the page) as there was no revised licence published agreeing that, as Arqiva wanted a later date. The only licences ever listed recently were a revised one last year in July which still had the 2026 end date
and the new one https://www.ofcom.org.uk/….pdf

The COM8 closure was a commercial decision Rebuilding Freeview High Definition from 2019 onwards | free and easy and contains the statement I was given.

Chris.SE's 3,345 posts
Saturday, 18 December 2021

I would like to watch Freesports, but the only signal I can get is from Sudbury, which does not offer Freesports: I w wonder why?

Rex Watson's 7 posts

Rex Watson:

It's because Freesports is on the COM7 temporary multiplex (due to close by end of June 2022) and this is only transmitted on 25 of the UK's main transmitters and Sudbury isn't one of them.

It's most likely on COM7 for one of two (or both) reasons. Lack of room on the other multiplexes, and/or the cost of being on COM7 is (we believe) cheaper than other multiplexes.
There's been no announcements about what may happen to all the channels carried on COM7 and whether changes on the other multiplexes may occur.

Chris.SE's 3,345 posts
Wednesday, 25 January 2023

Could you tell me why I suddenly can't access GBNews on channel 236 on freeview?

Janet sheldrick's 1 post

Janet sheldrick:

Works ok for me. It could be the weather or your transmitter having maintenance, but as you haven't given a full postcode, can't check any of that or your predicted reception which might be marginal!

Is it now back, or are you missing other channels? Easier if I just list the LCNs for the TV channels on the same multiplex - 39, 44, 51, 65, 72, 77, 78, 82, 84, 92, 206, & 235.

Chris.SE's 3,345 posts
Your comment please