Why are there so many +1 channels on TV?

Brian Butterworth
published on
UK Free TV
People often ask why their selected digital TV service has so many +1 channels. There are several possible reasons
Some people's commutes are much longer than others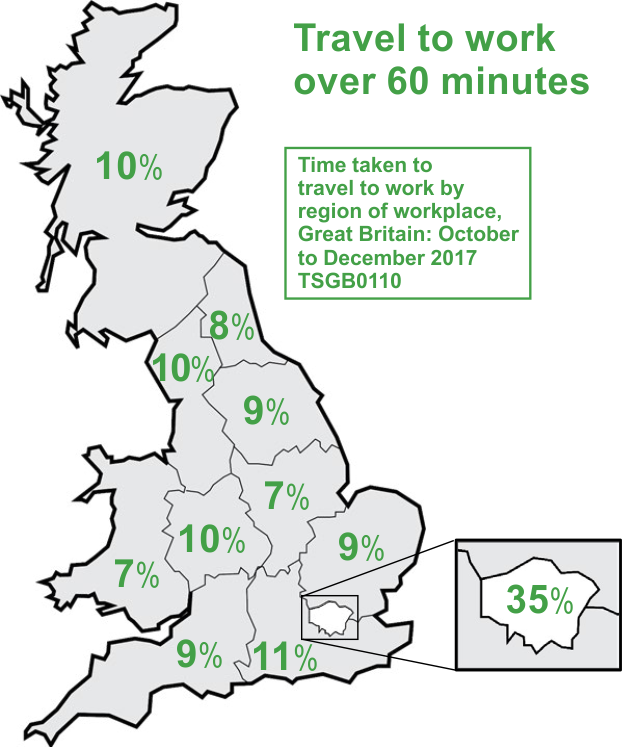 Not everyone in the UK is running on the same personal time-zone. This graphic shows the percentage of people in each region who have a travel-time to (and home from) work of an hour. Only 7% of people in Wales and the East Midlands take longer than an hour each way, but this number is five times larger in Greater London.
This does mean that there are enough people who are happy to not miss a TV show.
Most people don't use their digital TV recording device
If everyone has a digital TV recording device, why do we need +1 channels? There are two interesting facts here. First is that the number of homes with a Personal Video Recorder (usually Sky+ or Freeview+) peaked in 2015 and now stands at 56%.
This suggests that there are still plenty of homes without a DVR, who might welcome a simple hour time shift channel. More alarming is this Ofcom graph which shows that two-thirds of people say they have access to a digital recorder, but only 18% of their viewing is time shifted!

This suggests that the Great British public find the pick-to-watch later digital TV systems somewhat less real-world usable in practice than when they bought (into) them.
+1 TV stations are cheap to make
It's a piece of cake, technically, to supply a time-shifted TV station. In effect the output your TV channel is pumped into a computer where it is stored in memory and regurgitated (and overwritten) an hour later.
From a rights point of view, ad-funded broadcasters just extend the rights they must broadcast the content for an hour, and the advertisers who pay for the channel to run just need to add together the viewing figures for the time-shifted showing.
If the costs of the provision are less than the added revenue from the advertising income, why would a broadcaster want to go to the trouble of supplying a different channel?
About 5% of viewing is of +1 channels
About 5% of viewing today is to +1 channels. This is a drop over the last two years from 6%. The graph here shows the channels that make up this 5%. The bulk of this is from the time shifted services from ITV, ITV2, Channel 4, E4, Channel 5 and Film4.
Will the decline continue? When Sky renumbered all the +1 channels last year, it took about two weeks for their viewing figures to be restored. If you want to see a graph of the +1 channels figures going back to 2002, see here.
+1 channels help keep viewers
The only TV channel that supplies public viewing figures for the standard, high definition and plus one services is ITV (meaning ITV, STV, UTV and technically ITV Breakfast). Today 32% of time spent watching is of the HD service (from nothing) but 5.5% of viewing has been to ITV+1. This suggests that +1 viewers are very loyal, even finding the channel when it moved many places in the Sky EPG last year.
Long term +1 viewing graph