Expecting 4G interference? Tests now show that you have a one in 300 chance

Brian Butterworth published on UK Free TV
Looking back the the original posting, Ofcom moves to protect Freeview interference from 4G mobile, we can see the Ofcom suggested that:

Of the 16.3 million UK homes with a standard (unamplified, unshared) Freeview reception, 110,000 (0.67%) would be effected.

Of the 5.2 million homes using communal aerials systems, 550,000 (10.6%) will have problems.

Of the 5.6 million homes using amplified Freeview reception, 100,000 (1.8%) will experience problems.

Today, at800 have published the results of the tests in London, Brighton and Hove and York - at800 updates estimate of likely impact of 4G at 800 MHz on Freeview:

"Following tests conducted across the country, at800, the organisation responsible for protecting Freeview when 4G at 800 MHz is rolled out across the UK, has provided a new estimate of the likely scale of the impact. If national rollout reflects the results seen during its tests, at800 expects no more than 90,000 households, with Freeview as their primary TV service, to experience disruption caused by 4G at 800 MHz. Whatever the level of disruption, at800 is ready to restore Freeview to viewers.





at800 has now sent postcards to households in London and the surrounding areas in preparation for the activation of 4G at 800 MHz masts over the coming weeks and months. at800 is also sending postcards to other areas of the UK ahead of masts switching on. at800's mailing does not mean that 4G services will be available to consumers. For information about the availability of 4G services, people should contact their mobile operators.

In London, in particular, Freeview received from the Crystal Palace transmitter is unlikely to be affected by mast activation because of the strong terrestrial television signal and its relatively large frequency separation from 4G at 800 MHz. However, at800 is sending postcards and running a publicity campaign to ensure anyone who does experience new disruption to their Freeview service knows how to get in touch."

So with 26.50 million TV households in the UK (see Monthly universe summary - BARB) 90,000 represents 0.340% of them - that's a ONE IN THREE HUNDRED chance.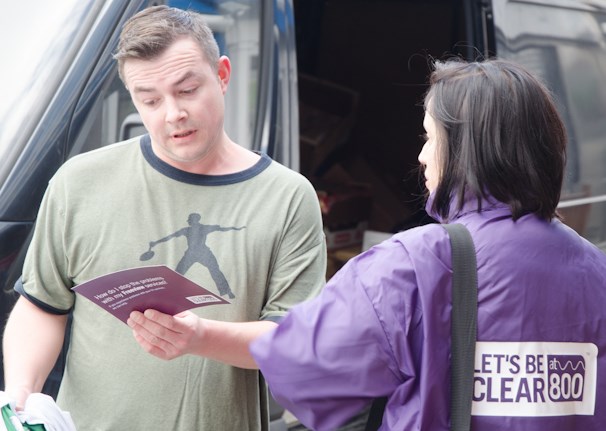 It seems that you are most likely to need a filter if:

a) you are a long way from a high power Freeview transmitter; and

b) you are very close to a 4G mobile phone mast; and

c) you are using a booster.

That's good news for Freeview viewers.



If you have had a postcode from at800 - see Received a postcard from at800?
Comments
Thursday, 25 July 2013

Hello Since wed 24th july our signal strength on all digital channels have dropped from 80% to 65-70% which has dropped the quality below 100% and hence breaking up. This has continued for the last 48hrs now, can you tell me if this is likley to be a 4G test problem please. Postcode DA2 7RP Masthead Amp feeding 3 TVs from the crystal palace transmitter. We was borderline allready and this has made freeview unwatchable with a 10% + loss of signal :/ Thank You Sam.

sam's 1 post
Friday, 26 July 2013

Subtitles have been missing from ITV1 for the last three or four days, although other channels are fine. Reception is from the Oxford transmitter, I live in Wantage.
Subtitles are essential for my wife who is profoundly deaf. Is this just a temporary blip?

John Long's 1 post

Is there any issues in the North Nottingham area? As I have lost all freeview signals completely

Andy's 2 posts
Sunday, 28 July 2013

The last 4 days we have not had a viewable picture at in, but just in the mornings! No problems later on in the day at all. We live in Okehampton in Devon.

The signal is apparently strong but of very poor quality, the local transmitter report no problems. Any ideas?

Derek's 1 post
I
Ian from notts
7:45 AM
Alfreton

Andy-Do you know which Transmitter you are using? I'm near North Notts and havn't noticed any major problems since the Sony Equipment one

Ian from notts's 253 posts
I
Ian from notts
7:50 AM
Alfreton

John Long- Do a manuel signal check on ITV, CH4, CH5 and ITV2. Do each one seperatly! They should all be coming from the same signal frequency, If ITV is different your equipment has stored a rogue signal? Also check your channel list in the 800's to see if there another ITV there? Does ITV+1 carry subtitles?

Ian from notts's 253 posts
I
Ian from notts
7:53 AM
Alfreton

Dereck- Do you have a booster fitted that is overloading your signal? You may need an attenuater fitted?

Ian from notts's 253 posts
Friday, 2 August 2013
S
Susan
3:19 PM
Basingstoke

My mum has a new freeview Hitatchi 19" tv/dvd combined. She is using a roof-top aeriel and she is located in RG21 5SF.

I set it up the TV and she did not have all the channels. I re-tuned and then got BBC.

THe next day BBC had disappeared!
This morning I twice peformed a re-tune, but still no BBC channels. I then re-performed the 1st installation and I can still not get any BBC channels.

What should I do?

Susan's 1 post
Saturday, 3 August 2013
I
Ian from notts
7:53 AM
Basingstoke

Susan- Your Mum's postcode suggests she is using either Hannington or Oxford Transmitter? Try a manual tune to store the BBC channels. When you use the menu button to re-tune the tv, Instead of choosing the auto tune option look for Manual Tune and type in frequency 45 for Hannington and press search. If that doesn't work go thro the process again but put in 53 for Oxford

Ian from notts's 253 posts

Susan,
also you might try referring to the 'Digital UK Tradeview' to see the bearings of the transmitters, and then have a look to see which way the aerial is pointing and tune appropriately. It might be worth looking to see if your Mum's neighbours' aerials are pointing the same way, and if so ask if any are having similar problems.

Jack Luxon's 33 posts
Select more comments
Your comment please