Sudbury Arqiva multiplex B changes 16 November - retune required

Brian Butterworth published on UK Free TV
After 6am 16th November 2011, viewers in Suffolk and Essex who receive the full Freeview service from the Sudbury transmitter will need to do a full retune of their Freeview boxes - you must perform a "first time installation" retune (sometimes "Factory Reset" or "Shipping Condition") to ensure you can watch the all the available Freeview channels on the correct channel numbers.

The ArqB multiplex is moving from C50 to C63 for seven months. There will be no changes to the power level or transmission mode parameters of the service. C50 is required for the ArqB at the Tacolneston transmitter digital switchover next wednesday.

Sudbury not see the commercial multiplexes operating at their final power levels until 27th June 2012. On this date SDN will move to C58, ArqA to C60 and ArqB to C56. Until this time some viewers on the edges of the service area for the transmitter will be unable to receive the commercial services.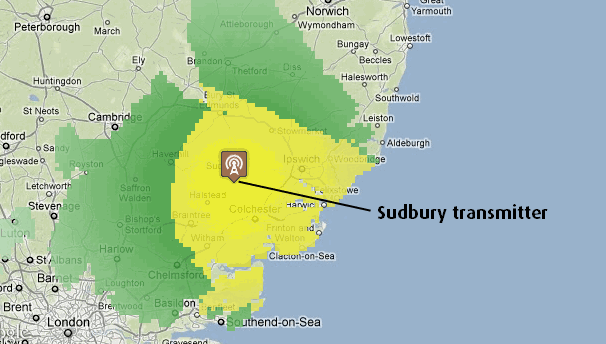 Comments
Tuesday, 22 November 2011

Looks like my Film4 and ITV4 are coming from Crystal Palace, as these are on C29 according to my TV. I get no signal on C63.
This probably explains the issues I'm having trying to record from Film4 via the EPG, which comes from Sudbury. Is there anything I can do to sort this?

Michael's 1 post

Why are the Freeview services transmitted by Sudbury B having to change AGAIN? There was no talk of retuning being a regular event after switch-over and those in the community who rely on others to perform the retune seem to have constantly had issues since the analogue switch-off. Post-switch over here in Suffolk we were advised to retune on or after 16 Nov. and now today we're being told to retune again tomorrow (23 Nov.) or lose stations.

How long is this charade likely to continue, please? It's all something of a joke...

Pierson Broome's 2 posts
D
drgeoff
8:05 PM
Felixstowe

Pierson Broome
If you found it necessary to retune on 16th you are using the Sudbury transmitter and need take no further action on 23rd which is the day things change on the Tacolneston transmitter.

drgeoff's 22 posts

drgeoff,

Thanks for your reply.

I don't understand why, as we point towards and receive Freeview transmissions from Sudbury, we would receive notification of a Tacolneston change on the 23 Nov.? This seems very strange.

Even though I had to perform a retune on 16 Nov. I've lost Film4 and ITV4 here in Shotley - I wonder if they'll return tomorrow?

For the elderly and those less au fait with technology generally this still all smacks of a less than professional project...

Pierson Broome's 2 posts
Wednesday, 23 November 2011
D
drgeoff
8:41 AM
Felixstowe

Something has changed. I can receive ArqB (from Sudbury) this morning.

drgeoff's 22 posts
D
drgeoff
9:35 AM
Felixstowe

Gone again! Was it just the sunshine?

drgeoff's 22 posts

Still nothing on ch63 for me.

What quality were you getting it at?

yes's 13 posts

John. Wed 23 November 2011 3PM Dedham.

I used to receive 106 channels from the Sudbury transmitter. In the last week or so we can only receive 56. I have retuned several times. Could you please explain what is going on?

John's 1 post
D
drgeoff
3:36 PM
Felixstowe

John

There are 6 multiplexes but three of them are being transmitted at low power until next June. Also some of them are now at higher frequencies where your aerial installation may not be so good.

It sounds like your reception is too weak on 2 or 3 of those multiplexes.

drgeoff's 22 posts
Tim CO14
5:42 PM
Walton On The Naze

Dave Lindsay: I have no booster fitted, I fitted one to see what would happen, and actually found it reduced signal by about 20% (perhaps I should try that again, as it seems to act as an attenuator!). I've had a Group E wideband aerial on the chimney for about 2 years, and can also get channels 41,44, and 49 on an old analogue Yagi aerial in the loft! As regards signal strength, my various Freeview receivers give different readings on that score, but average between 85-100%. I guess only a professional signal meter can give an accurate reading.

Tim CO14's 34 posts
Select more comments
Your comment please