Sudbury transmitter group switchover begins

Brian Butterworth published on UK Free TV
This week sees the first stage of the digital television switchover for 460,700 homes in Essex and parts of Suffolk.

From 6am Wednesday 6th July 2011, you must to a perform a "first time installation" retune (sometimes "Factory Reset" or "Shipping Condition") on your Freeview box or television set if you use the Sudbury full service Freeview transmitter. This is because the "multiplex 1" BBC service will be replaced by the BBCA multiplex on a different frequency. Update: And, in the instance of Sudbury, multiplex A/SDN also moves at the first stage.

If you use Felixstowe, Ipswich Stoke, Somersham, Wivenhoe Park or Woodbridge relay transmitter, from Wednesday 6th July 2011 you will be able to receive the BBC Freeview services (with the exception of HD) for the first time, and you will no longer be able to view BBC TWO on analogue.

In addition there are three new transmitters at Burnham on Crouch (new), Clacton (new), Rouncefall (new). From Wednesday 6th July 2011 these three transmitters will start transmitting the BBC multiplex, with the normal (limited Freeview Light) service starting on 20th July 2011.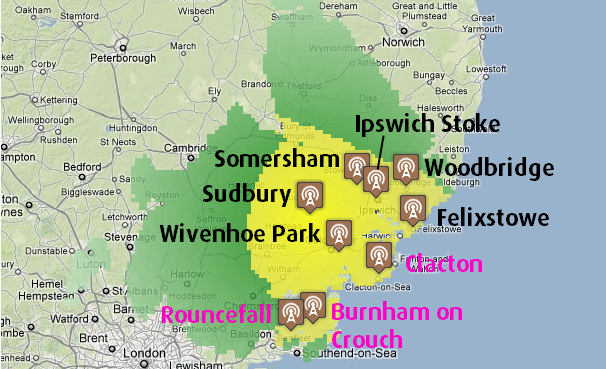 You MAY find that old equipment will no longer work - see TVs and boxes that do not support the 8k-mode




The University of Essex is also located in Wivenhoe Park.

On Wednesday 20th July 2011 will see the second stage of switchover, which provides the final Freeview configuration, including Freeview HD for all transmitters in this region.

On this date, you will need, once again, to do a "first time installation" as indicated above.
Comments
Tuesday, 5 July 2011

Will the retune be required straight after 6am in the morning - My parents are retired and watch TV quite a lot, so basically what I am asking is the switch over phased over a couple of days or is it "one off" in the morning ?

Thanks in advance

Andy Beard's 1 post

Andy Beard: Services from Sudbury are expected to be on the air by 6am on 6th July 2011 and 20th July 2011. Retunes are required on both these dates to continue viewing Freeview services. Note that relay switchover times are expected later in the day, mostly mid-morning, except for Wivenhoe Park and Woodbridge which are expected mid-afternoon.

KMJ,Derby's 1,811 posts

ALL: Note that transmitters are officially off-air from midnight to (at least) 6am. You may find some services go off and on before the advertised completion time, but it is not guaranteed to be complete until then.

At Sudbury, the Multiplex A service moves to Multiplex 1's old frequency (C49) *tonight*, rather than in two weeks.

Mike Dimmick's 2,486 posts
Wednesday, 6 July 2011
K
Kim Lay
2:38 PM
Colchester

Well what a waste of time the Sudbury switchover was. We in Brightlingsea CO7 0DG still can't get ITV1 and have virtually no signal on the likes of Film Four and many others. We were ignored by Channel 5 when it started, ignored by DAB and now by Freeview. No surprise to find that the switchover was rubbish and that we've been ignored once again really.

Kim Lay's 14 posts

Kim Lay: Today (6th July 2011) saw DSO stage 1 implemented. This involved switching off analogue BBC2 and replacing it with Mux BBCA at high power, that is all the BBC standard definition TV and radio channels. On 20th July 2011 DSO stage 2 will see the remaining analogue services switched off and replaced by Mux D3+4 (includes Channel Five) and Mux BBCB (the HD channels) switched on at high power. The COM muxes, which are regarded as an add-on service do not switch on their high power transmitters until 27th June 2012, when the frequencies become available.

KMJ,Derby's 1,811 posts

Kim Lay: Does your aerial point towards Sudbury? From memory some people used Bluebell Hill or Dover in the town.

If you use Sudbury C44 should be the BBC A Mux and coming through strong. Reports from friends say it is better than analogue at getting through!

I can pick it up here nr the Norfolk border and I've got a hill in the way and an aerial pointing in totally the wrong direction.

J. PS I used to work in Brightlingsea - so know the place well.

J's 2 posts

Kim Lay : as others have said, today it is only the BBC channels which have moved to full power on Freeview ; you need to wait another 2 weeks before ITV1/C4/C5 (and others) join them.

Dale's 78 posts

Kim Lay: Just to clear things up, you should receive ITV1, C4 and C5 on the 20th July as others have already said.

To elaborate on the last comment from "KMJ,Derby", you will probably still not receive quite a number of channels until the 27th June 2012 unfortunately. These channels include Film4, E4, Dave, Sky News and several of the other ITV channels e.g. ITV3 & 4.

To get an idea of the channels that may still be missing, click on the word multiplex in this or any of the other posts. On the page that appears, look at the channels under the title "After Switchover Configuration." You will likely have to wait until next year to receive the channels that are on the rows labelled SDN, ARQA and ARQB.

Will's 39 posts

- Digital UK - Postcode checker - Results for 1 Francis Street, Brightlingsea, Colchester, CO7 0DG -
There wont be the full range of channels until 27 June 2012 when Dover & Bluebell Hill in Kent switches and all conflicts are resolved.


J's 1 post
Thursday, 7 July 2011

Kim Lay:
Sudbury is a main transmitter that transmits Channel 5.
If you can't get Channel 5 analogue you are getting your TV from a relay.

Sudbury transmitter = horizontal polarization.
Sudbury relays = vertical polarization. (Bars on aerial go up and down)

ITV1 will start on the final stage when all analogue ends with relays.
Film4 will not be transmitted from the relays.

Mark A.'s 373 posts
Select more comments
Your comment please