Local TV - an introduction

Brian Butterworth published on UK Free TV
The current situation
In comparison with most other countries in the world, the UK had always had a poor
local TV
service.
BBC News
runs a service each for Scotland (population 5.1 million),
Wales
(3.0 million) and Northern
Ireland
(1.8 million).
For the 51.1 million people in England the BBC runs
services
from
London
, Birmingham, Manchester, Leeds,
Newcastle
upon Tyne, Bristol, Southampton, Plymouth, Norwich,
Oxford
,
Cambridge
,
Nottingham
, Hull and
Tunbridge Wells
- an average of 3.65 million people per
region
.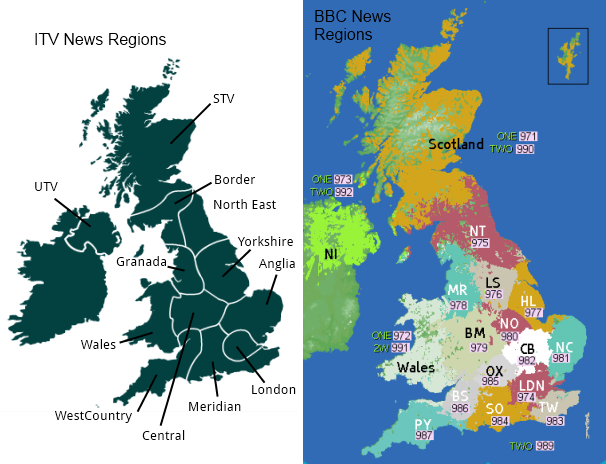 On
Channel
3,
UTV
provides a service for Northern Ireland, STV has two services for Scotland, and ITV provides a single service for Wales, and only nine services for England: Border, North East, Yorkshire,
Granada
, Anglia, Central,
West
+
West Country
, Meridian and London.
BBC and ITV local TV
The BBC did trail a "county based" local TV news service in Warwickshire, Herefordshire, Worcestershire, the West Midlands, Staffordshire and Shropshire, but it was of very poor
quality
and the BBC Trust afterwards placed a ban on the BBC providing any further breakdown of the traditional BBC One regional news service.
ITV also tried a service, ITV Local, in 2005 which used broadband to provide news, weather and other services for two schemes first in Brighton and
Hastings
. However, the service was closed in March 2009 due to the state of ITV plc finances.
The new proposed service
Following the election, the coalition government's culture secretary Jeremy Hunt put forward proposals for local TV in the UK.
It is proposed that:
Cities, towns and other areas of upwards 200,000 people should each have their own daily local television news service;
the services should start in 2012/13;
that people should be able to find a local TV service for their locality on channel 6, or 106 on cable, satellite and Freeview, as well as online;
There should be a "national backbone" sustaining service for the channel to pool advertising sales, programme buying and back-office functions.